In today's article I will be discussing about pubic hair removal and the best epilators for your pubic hair.
Many woman including my sister, prefer to carry out a brazillian waxing to have a 4-week hair-free secret-area 😉 . However the problem is it is advisable to go for a salon or a professional to do a brazillian waxing if you are not experienced in carrying it out.
This is where the use of a bikini line or a pubic hair epilator emerges.
What are the Advantages of Using an Epilator for Pubic Hair Removal?
Here I have listed some general advantages of using a bikini line/pubic hair epilator.
Remove hair in your bikini line and pubic area with ease
No need of going to beauty parlors and waste your time. You can do it by yourself at home.
No need of spending hundreds of dollars to beauty parlors. Epilators are cost effective.
Does Epilating Your Pubic Area Hurt?
To be honest epilating your bikini lines hurt. The skin around the pubic area is so gentle when it's compared with any other part of your skin. As I always mention epilation hurts but it's not unbearable. If you are already removing your skin hair using other methods, this bit of pain is already manageable.
I have written an article on how to reduce pain while epilating and I think it would be better if you can read that too.
Which epilator is best for bikini area?
I have used several epilators to epilate my bikini area however here I have listed the top 5 epilators ( 2019 Updated ) for pubic hair according to my own experience with them. I hope you gals will be able to choose the best bikini epilator after referring to these.
Panasonic ES-ED90-P Wet & Dry Epilator
Emjoi Soft Caress Epilator
Remington EP7030 Smooth and Silky Wet & Dry Epilator
Hangsun 2 in 1 Hair Epilator and Shaver
Emjoi eRase e84 Dual Opposed 84 Tweezer Head Epilator
Panasonic ES-ED90-P Wet & Dry Epilator
Panasonic ES-ED90-P is actually a multi purpose epilator but one of the best epilators for your bikini lines. I will keep it short and sweat by stating the facts which is relevant to our main topic.
Panasonic ES-ED90-P is a cordless wet & dry epilator which means you can epilate your pubic hair while you are at your shower. There is a gentle epilator head which will reduce the pain while you are epilating sensitive areas such as bikini lines. And also having water contacting your skin, makes the epilation easy and less painful.
As I have mentioned above the pubic area is one of the most sensitive parts of your skin. In Panasonic ES-ED90-P they have used a Nickel-free hypo-allergenic blade and a protective foil cover which will cause a clean shave thus making it perfect for the sensitive areas of the body.
The dual speed model helps you to adjust the speed of the process as you want. I know some of you girls might be having an extremely sensitive skin where the epilation process might have to get a little bit slowed down. The dual speed function is not the perfect since you can set it up to two speeds only. However it is a start.
Actually epilating the bikini lines especially the secret area is somewhat hard. Sometimes you might get a shady view at the epilating area. There is an in-built light which comes with the epilator which will lighten up the epilating area and give you a better view.

Panasonic ES-ED90-P Bikini Line Epilator
Read more reviews and purchase from amazon.
Emjoi Soft Caress Epilator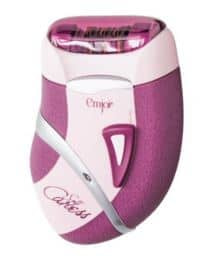 Emjoi Soft Caress is another fine epilator which is perfect for bikini lines and pubic hair. This is one of the least pain causing epilators in the current epilator market. One of the specialties of Emjoi Soft Caress is that it comes with 24 karat gold plated Hypoallergenic tweezers which remove the hair quickly and also comfortably.
Emjoy claims that you can have 6 weeks of hair-free experience after a one epilating session. However this depends. In my experience, after a session with Emjoi Soft Caress the maximum hair free period would be around three to four weeks. After that you will start to notice some fine hair pouring out of your skin.
It is always good to have a better grip over the device when epilating. Emjoi Soft Caress comes with a niche and elegant design with a touch grip which is comfortable to use.
And also another reason to consider this as a least pain epilator is that the massaging finger attachment which is embedded in the package. It will simply produce a fine massage while you are epilating and will cause less pain due to.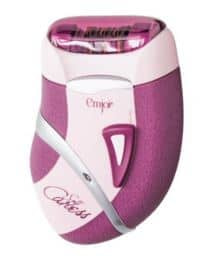 Emjoi Soft Caress | Best Bikini Line Epilator
Read more reviews and buy from amazon
Remington EP7030 Smooth and Silky Wet & Dry Epilator
Actualyy Remington EP7030 is a Full body and face epilator. It comes with 40-tweezer head which is really flexible and adjusts to body contours easily.
Bikini lines and pubic area are really delicate and sensitive parts of your body-skin. The main reason to choose Remington EP7030 as one of the top 3 best bikini line epilators is that it comes with a special massaging cap which includes Aloe Vera which will soothe your skin and ensure a gentle epilation with lesser pain.
And also this is wet and dry epilator which you can use it in or out of the shower. However as always I'd recommend you to epilate while you're having a shower. Because, the skin contacting with water will help the epilation process and minimize the pain.
Remington EP7030 comes with a built in light which is really helpful when you are epilating your pubic area. It will reveal the most fine hairs and if you miss something in the first pass you can clearly so it so you can have another epilation pass through that area.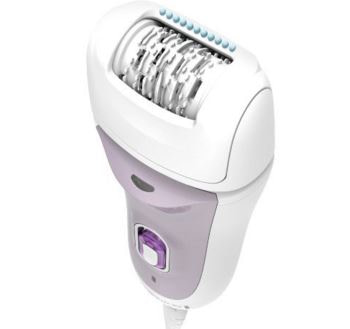 Remington EP7030 Smooth and Silky Epilator
Read more reviews and purchase from amazon
2019 Update! I've personally come accross some more cool epilators for bikini hair removal. And I thought of sharing those with my lovely readers too!
Hangsun Hair Epilator and Shaver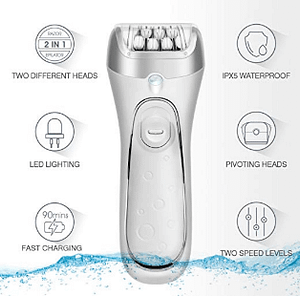 Hangsun is a quite newer epilator brand and does not occupy a larger market share. However one of my friends gifted me this epilator (She know I'm a hair removal freak) and I was quite amazed by its work even the brand is not much popular in this part of the country.
Actually this is a full body epilator and shaver which comes with two interchangeble heads. One is extra wide epilator head and the other is a shaver head. Which means that this machine is not only for epilating but also for shaving.
There are several facts that makes this Hangsun epilator a worthy bikini epilator.
This is a wet & dry cordless epilator with a rechargeable battery. It allows you to use it in your shower to epilate bikini lines and pubic area. (I myself epilate my bikini lines in the bathroom while having a nice cold bath – privacy matters)
This comes with two-speed rotation settings. In the Speed 1 mode It took me around 30-40 minutes to epilate my whole bikini area (Well I did not have any hair removal there for almost 2.5 weeks) with this epilator and it's not the fastest epilator in the market as well. However a week passed now and I can not see any stubble or irritations in my skin! For epilating bikini lines I would suggest the Speed 1 mode hence the skin in pubic area is quite sensitive. The Speed 2 mode is for more coarse hair areas such as legs and arms.
The other fact which makes this a perfectly suitable bikini epilator is that it comes with an inbuilt smart light which helped me a lot in revealing the finest hair and making the hair removal process clean and perfect.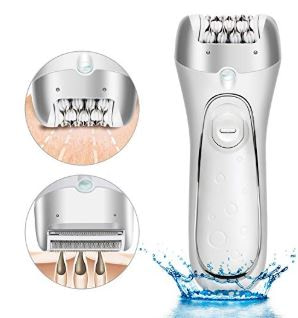 Hangsung 2 in One Epilator and Shaver
Read more reviews and purchase from amazon
Emjoi eRase e84 Dual Opposed 84 Tweezer Head Epilator
Well Emjoi is one of the leading epilator brands. Emjoi is well known for the fact that it provides quite faster hair removal process. eRase is the new in the line epilator from Emjoi, which comes with 84-tweezer head which is quite sizable improvement since the previous 72-tweezer head Emjoi AP-18 epilator.
I my self still did not get the chance to test it with my own. However my sweet lovely Jenifer aka Jeni one of my gorgeous cousins had already bought one she's quite pleased with it especially as a good epilator for pubic hair removal. And also she's the one who recommended me to try out this new epilator. According to her under a 15 minutes she could carry out a complete hair removal in pubic area and the pain was "amazingly low to none in most of the times" as she said (This might vary with each person!).
Emjoi eRase is a corded epilator and recommended for the use as a dry epilator. this comes with a Precision Hair Removal Technology, which causes root level hair removal. Which means there won't be any hair popping out of your pubic area for quite a while (According to Jeni it took around 3-4 weeks for hair regrowth after using this epilator). The Dual opposed heads stretch the skin and their own patented Glide Technology make the hair removal process comfortable and painless, which is why this is one of the most suitable epilators for the sensitive skin areas such as bikini lines.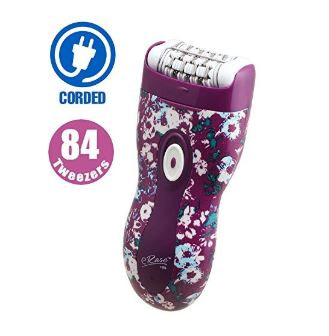 Emjoi eRase e84 Epilator
Read more reviews and purchase from amazon