Is this Your First Time Using an Epilator for Face? Should You Worry?
Even this is your first time epilating your face you should not worry about it. Some might think epilating is too much painful when it comes to your face. Most of the hair removal methods come with pain and it is not at a limit which is unbearable.
Why Epilate Your Face?
Facial hair is the most disturbing hair for girls out of all in your skin. We've all got facial hair and do not be afraid to admit it. You all must have spent hours on bleaching, waxing, shaving or plucking them one by one.
I myself too am a victim of facial hair and to get rid of facial hair, I use Braun's latest dedicated facial epilator.
Actually this face epilator comes as 2 in 1 pack which includes the facial epilator and a facial cleansing brush, which makes it a deal maker. You can simply switch between the epilator head and the cleansing brush head, depending on what you need.
What's So Great About This Braun Facial Epilator
Slim Epilator Head Which Fits Your Face Comfortably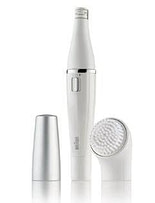 The epilator head is really small and slim, just about 1cm.
When it comes to normal epilators which can be used to remove facial hair, the main problem is that they never fit properly in your face. The epilator head is relatively large and since you won't be able to have a perfect facial epilation, especially around your upper lip area and around and between your eye brows.
Sometimes I use Braun Silk Epil 7 to epilate my facial hair but when it comes to some certain facial areas such as upper-lip and eye brows, it is too hard to use it properly.
10 Tweezers with micro openings
The micro-openings of the 10 tweezers ensure the epilation of fine hair. Braun claims that the facial epilator can remove the finest hair – 0.02mm wider and 0.05mm long. You need not to wait till your hair to grow big, enough to visible to epilate.
If you are using a tweezer or manually plucking your facial hair, still you'll have to wait them to grow up.
As you already know, more the hair grow, more pain will occur when removing them. That's one of the main reasons I use a dedicated facial epilator; to reduce pain when removing hair in my face.
It's Cordless and Battery Operated
Braun Face is a cordless epilator which will enhance the ability of handling in smoothly. And also it is battery operated (AA Batteries)
It's Waterproof! A Wet & Dry Epilator
You can simply epilate your face while having a shower. And the other fact is that you can use the cleansing brush with water, soap, cleansing milk, cleansing liquids or facial scrubs.
Faster and Efficient Facial Epilation
Braun claims this face epilator is 200X faster than manual plucking which seems to be true in my personal experience. This means you need not to spend hours removing your facial hair anymore.
Maintain Shapely Eyebrows with Help of this Best Facial Epilator
We girls love to have our eyebrows shaped and pretty. With the slim head, Braun Face is perfect for removing hairs between and above eyebrows and maintains them in a shapely manner. This is one of the best advantages in this dedicated face epilator since most of the other epilator heads are too large to handle epilating in such narrow areas.
 The Facial Cleansing Brush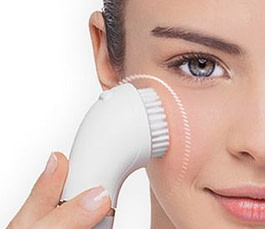 As you already know this Braun facial epilator comes with an integrated cleansing brush. It is really simple to switch from the epilator head to the cleansing brush head.
Braun claims that there are 10,000 fine bristles which are really small and have the ability to clean your facial skin pores easily.
The cleansing brush is far better than manual facial cleansing. After I started to use this facial cleansing brush over manual cleansing, my face got more clean and healthy.
As well as the cleansing brush will act as a method of physical exfoliation, this will straighten out and prevent the facial ingrown hairs.
Is there any specific way to use the Facial Cleansing Brush?
Well there is no any exact way you should follow when using the facial cleansing brush.
In my experience, first apply soap, cleansing gel, cleansing milk or facial scrub to the wet facial skin. Switch on the brush and then start from the forehead. From there, move downwards toward the nose and then towards the cheeks on each site. Some of you might have more oily zones, especially when it comes to the cheeks. Spend more time in these oily zones.
And even you can use the cleansing brush to clean the areas such as neck and the neckline (décolleté).
What are the Drawbacks when It Comes to the Braun Face Epilator
Not a Dual Speed Epilator
The speed of an epilator has influence on the pain that might occur. That's why most of the epilators comes as dual speed epilators. So the user can adjust speed according to her wish. However the pain issue with this facial epilator is at its minimum but still there's some pain left.
Sum Up
Braun Face is the world's first dedicated facial epilator. And also it can be considered as the best facial epilator right now in the market. I could only find only single drawback with regards to this amazing epilator and overall this is quite a piece which you must really have in your possession.