Looking For the Best Epilator Experience? Try the Braun Silk Epil 9
In my humble opinion, using an epilator has been the best and more convenient way to remove the unsightly hair I have on body. While epilators are a godsend, it seems like I tried them all at one point or another in an attempt to find the perfect product for my needs.
If you have ever taken a look at the average price of an epilator, you know they aren't cheap. That is why it is important that you find an epilator that is solidly built, durable, and provides the best and consistent results with every use.
When I bought the Braun Silk Epil 9 epilator, I found that elusive "perfect product" that delivered the goods every time I used it.
Braun has had a longstanding reputation as a company that makes high quality and durable products, and the Silk Epil 9 is no exception.
Both fast and precise, the Silk Epil 9 works flawlessly on even the shortest and most stubborn of body hair and can be used dry or in the shower for a closer and more comfortable removal experience.
If you are looking for a high quality epilator that will remove all of your unwanted body hair in the most comfortable manner possible, this product should definitely be at the top of your list.
If you still aren't ready to pull the trigger and buy this product, I completely understand. In order to help you make your decision a bit easier, I am faithfully submitting my own Braun Silk Epil 9 review.
After understanding all of the great features this product has to offer, you will want to buy the Silk Epil 9 right away!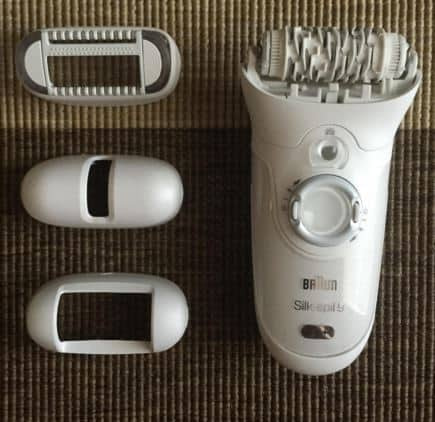 What's So Great About the Braun Silk Epil 9?
In this Braun Silk Epil 9 review, I want to highlight what truly makes this product stand out from other epilators on the market.
These features truly are amazing, and if you give this product a try you will be completely sold after just one use.
Fast and Precise epilation
The Braun Silk Epil 9 features a head which is 40 percent wider than others currently on the market. The wider head is awesome because itensures that more hairs are captured and removed in one stroke.
This revolutionary epilator also features the company's patented MicroGrip Tweezer Technology with wider, longer, and deeper tweezers that increase overall performance.
The Silk Epil 9 can remove hair up to FOUR TIMES shorter than by waxing, which means fewer missed hairs and an overall smoother (and more even) look.
Better Exfoliation
The key to perfect epilation and smoother skin is proper exfoliation. The Braun Silk Epil 9 features advanced exfoliation thanks to a specially designed head made up of 10,000 fine bristles.
This high-density brush gently sweeps away all dead skin cells and helpsto stimulate dermal regeneration, leaving you with healthier, smoother, and more radiant skin.
It is a Wet and Dry Epilator
If you're like me you like to have options for everything. When it comes to removing hair, having a product that you can use in the shower as well as regular dry use is a definite plus.
With the Silk Epil 9, you have a choice of how you want to remove your unwanted hair, and its no-slip grip makes it easy to control no matter if you use it in the shower, the tub, or even a torrential downpour.
Cordless and Rechargeable
I don't know about you, but I hate having cords get in the way of anything I am doing. Fortunately, the Silk Epil 9 is completely cordless, allowing you to get 40 minutes of use with just a one hour charge!
You Can't Forget the Extras
Who doesn't like little bonuses that make their lives easier? The folks at Braun thought of everything when designing the Silk Epil 9.
Along with a high quality shaver and trimmercap, this product also features a high frequency massager, a cap that fits the contours of your face, and a specially made attachment for those more sensitive areas on your body.
And Probably the Most Important Feature of Them All!
Perhaps the best feature of the Braun Silk Epil 9 is the fact that you can shave unwanted hair anywhere on your body ; that is right..ANYWHERE!
It doesn't matter where you have unsightly hair, whether it is your legs, face, neck, or arms the Silk Epil 9 can handle any hair you may have and it will be removed painlessly.
If The Silk Epil 9 Epilator Is So Good, Aren't There Any Drawbacks?
If you're familiar with the adage, "If something is too good to be true, it generally is," you'd be forgiven for being a bit skeptical.
I have been using the Silk epil 7 before this (and still does) and I have used the Braun Silk Epil 9 for quite some time now, and let me state—in no uncertain terms—I will never, ever switch to another epilator ever!
While this should be a ringing endorsement, there are a couple of things that you definitely need to keep in mind before you purchase this product.
With all the features this product possesses, the learning curve may be a bit steep for those who are new to using an epilator.
This product is best suited for those who have experience in not only using an epilator, but also know proper exfoliation techniques.
There is one another gripe I do have on this product; for the $140 price tag, you would think it would come with a sturdy well-crafted carrying case. Instead, I received a somewhat flimsy white tote bag to carry this expensive piece of equipment. However it suits the need of carrying though it is a bit flimsy.
This Sounds Awesome! Where Can I Buy This Great Product?
With all the beautiful and convenient features I have listed here, you may already be pulling out your purse and getting your credit card warmed up wondering where to buy the Silk Epil 9.
I bought mine through the lovely folks at Amazon.com, and when you visit their website, you can check out all the great features of the Silk Epil 9 along with other epilators.
Amazon is the best place to get honest product reviews from regular folks like you and I who do their research in trying to find the best epilator for their hard-earned money.
Do you already have the Braun Silk Epil 9 and love it as much as I do? Drop me a line here at my website and tell me all about it. In the future, I will be adding more updates to include product reviews of other popular epilators on the market, so be sure to check back soon.
While it is important to compare products before you make your purchase, I guarantee that once you buy and try the Braun Silk Epil 9, you will never try another epilator.