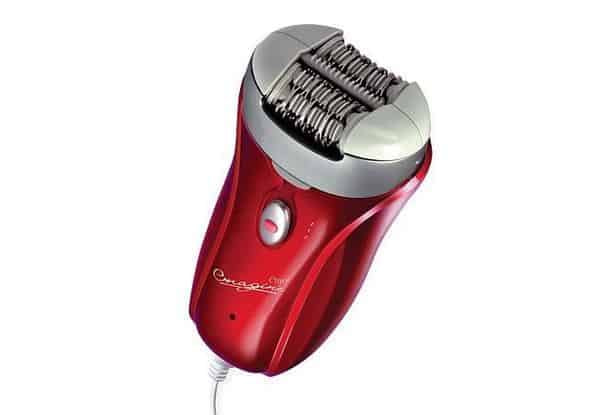 Emjoi AP-18 Emagine Epilator can be considered as one of the best epilators in the market where it is famous for removing more hair during a single session.
It is a time and money saver which can suits any of you girls.  Some of the epilators which are in market cause skin irritation, but Emjoi AP-18 Emagine is the  best to use as it does not cause any harm to your skin.
What's So Great in Emjoi AP-18 Emagine Epilator?
Emjoi AP-18 Emagine is one of the best epilators I have used so far. The normal price of the epilator is around $130 however there has been a huge discount given up to 50% recently. Let us look at the best features of this amazing epilator first before committing to buy it. 🙂
More Tweezers, Efficient and Faster Epilation
This Emjoi epilator is having the special feature of 72 tweezers which is capable of removing majority of hairs from legs and hand at a time which can easily last long for 4-6 weeks.
As I have mentioned in my previous articles more tweezers mean faster epilation.
In my experience this is the fastest epilator I have ever used and even my personal favorite braun silk-epil 7 is behind Emjoi AP-18 when it comes to the epilation speed.
And also it has a special disc of 17mm which is opened in the radius way for removing unwanted hair.
The Glider Technology for Smoother Epilation
Emjoi AP-18 Emagine comes with a glider technology which prevents skin irritation. It means that you don't want to concern about any kind of skin harm by using this epilator.
And also Emjoi AP-18 Emagine has a dual head which are opposed each other in order to keep skin taut at the time of operating the machine.
Removes Hair From Root
Emjoi AP-18 can easily remove the hair from the root by preventing rashes and skin irritation.
I have been using this epilator specially for my underarm hair and it does quite a good epilation.
And even it has the capability to remove the shortest hair (0.5mm).
I had seen some of my friends using this as a facial epilator and to test I used it to remove hair in my upper lip and chin. I am using a dedicated facial epilator and that might be the problem which I felt more pain while using Emjoi AP-18 Emagine for facial hair removal.
My Favorite : Silver Ion Technology Which Prevents Bacterial Growth on the Epilator Head
It is natural, when using an epilator for a period of time, bacteria starts to grow; mostly on the epilator head. This can be something not cool if you are a long-term epilator user.
Emjoi AP-18 epilator comes with silver ion technology which prevents the epilator head from bacterial growth. So you need not worry about the bacterial infections which you will never ever face.
Emjoi AP-18 Emagine Epilator Comes With an Elegant Design and 1 Year Warranty
Handy in nature can be easily taken anywhere. It comes in travel pouch and having speed settings in 2 different ways. It comes with warranty of 1 year which can change easily if anything happens to it.
Easy Cleaning
Emjoi AP-18 epilator comes with a cleaning brush.
What else would have make the Emjoi AP-18 a Perfect Epilator?
A built-in light
It would have been great if Emjoi Emagine AP-18 came with a built in light. As I have mentioned over and over in my posts, a built in light enable the user to identify to un-removed hair  when epilating.
Facial Cap
Although Emjoi AP-18 Emagine can be used as a facial epilator, as I mentioned before there is a considerable amount of pain.
It would have been better if a facial cap ( Something like the efficiency cap which comes with philips-satinelle-hp6401) would have been included with Emjoi AP-18 epilator. It would have lessen the pain and as well as ensured a smooth facial epilation.
Sounds Great? Where Can I Buy this Emjoi Epilator
I bought my first Emjoi epilaotor from Amazon over a year ago and even bought this one from them. Amazon ensures the safe delivery of the product to your door step within a shorter time of period.
So it's the end of my review on this perfect epilator folks! Please share the word with your besties and if you have any kind of question or query on Emjoi AP-18 Emagine epilator please use the comments section to post them and I will try to reply them as soon as possible.