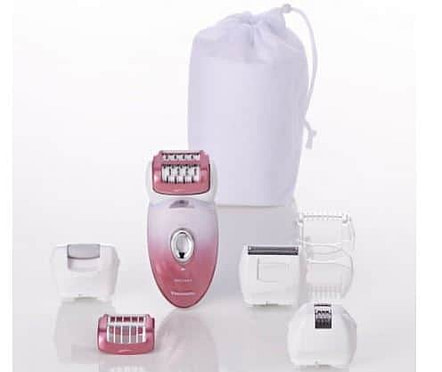 Sometimes, being a girl can really be a drag. Waxing, tweezing, tanning, and contouring—rinse and repeat. Don't get me wrong, I like feeling pretty, but I also hate how much effort it takes sometimes. That's why I was so excited when this Panasonic epilator entered my life.
It was June of this year, and I had been dieting all winter long to get that bikini body beach-ready. Sure, I wasn't going to be winning any contests, but I was feeling pretty good about myself.
That is, until I had to contend with razor burn and irritation from waxing all over my legs and across my bikini line. So much for looking good! I was desperate, and so I decided to try out something a little different.
This Panasonic ES-ED90-P Epilator comes with a head of 48 rotating tweezers which is efficiently capturing and removing long and fine hair. As well as there is a built-in LED light; this will ease your epilation.
Panasonic's ES-ED90-P comes with several attachments; the epilation head, shaver head, gentle cap, epilation beginner cap and most importantly the bikini comb and the foot care head.
The first thing I noticed was how smooth of a shave I was getting; there was absolutely no stubble, and my legs looked as good as if they were waxed.
The second thing was the complete lack of burning, itching, or redness. It was as though I had finally found the secret to flawless, smooth skin…and maybe I really had.
Panasonic's ES-ED90-P is Also a Dry & Wet Epilator
And yes, I forgot to mention that this wonderful piece is also a dry & wet epilator. It is 100% water proof and can be used gently on your skin without the matter of condition. You can use this epilator while having a bath or sitting on your couch.
However you might feel a little bit more pain while carrying out the epilation but it's not at the level which can't be tolerated.
There is no epilator with zero pain level till now, so it won't be an issue if you are using epilators for some time.
Never the less if this is your first time using an epilator you will have to endure the first couple of epilation rounds and you will get used to it.
Why this is the best epilator for Summer?
Although the Silk Epil 7 has been the best and my favorite epilator so far, I have been using this Panasonic epilator throughout the summer since it is the best epilator for the bikini line and the relative areas.
Wearing a bikini and feeling pretty is always awesome in summer and this tool makes it real.
And not only do I look picture-perfect every time I go out now, it's also fast and easy to use, so I waste far less time getting ready these days. Plus, I get more compliments from the people that count most, like my new boyfriend. 😉