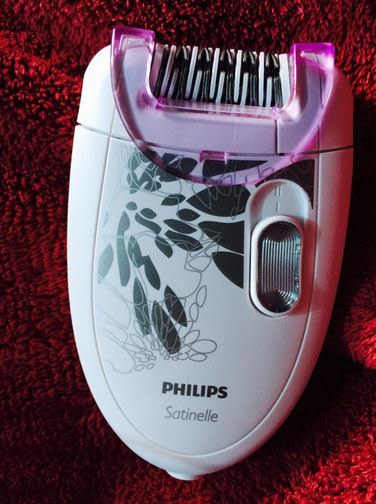 If you are completely new to epilators, you might have loads of questions on epilating and epilators.
You might be wondering what kind of an epilator you should be buying or whether you have to spend hundreds of dollars for your first epilator.
In my opinion it's better if you don't spend much on your first epilator. Since most of the time the functionality of all epilators are same and there is a probability that you might not get satisfied with its experience.
So better to go for an effective but cheap epilator, like Philips Satinelle HP6401 which will cost you only around $30.
Even if you do not like the experience, you can simply throw away the epilator without much concern. However epilating has become the best way of hair removal.
Philips Satinelle HP6401 comes up with 21 hypoallergenic tweezers and as well as it has two speeds.
I have been using several epilators (Sometimes just to test them) and it was a concern that this epilator takes some more time than the other epilators like Emjoi Emagine AP-18 or Braun Silk-epil 7; Both of the mentioned Emjoi Emagine AP-18 or Braun Silk-epil 7 comes with more tweezers, so the epilation is faster compared to this.
Philips HP6401 is a really cheap epilator which only costs around $25-$35 which is really cheap when compared to high end epilators like braun silk-epil 9 or Panasonic ES-ED90-P epilators, which costs around $150.
What's so great in Philips Satinelle HP6401 other than being a cheap epilator?
Less Pain When Using
When comparing to some of the other epilator brands, Philips HP6401 does not cause much pain, even if your skin is completely new to epilators.
This is the main reason why I recommend this for the newbie epilator users.
However there will be some amount of pain, which is not unbearable, but after few rounds of epilation you will get used to it.
It is adviced to exfolicate before epilating, so it will remove the dead cells in your skin and make the epilation process smoother and easier.
I will write an article on "pre-prep tips before epilation" as soon as possible which will help you girls for a painless epilation experience.
2 Speeds
As I have mentioned above Philips HP6401 epilator is integrated with two speeds. You can adjust the speed to be slower or relatively faster.
Though it might take some more time to epilate under the gentle speed, I'd prefer that because it gently removes the hair and the pain that might occur is really low. However you can easily switch between speeds using a simple button.
Efficiency Cap
Philips satinelle is a head to toe epilator. However I do not recommend this for your face because it is better to go with a dedicated facial epilator since the facial skin is so delicate and is really important.
Other than for the face, Philips Satinelle is ideal for delicate skin.
The one and only attachment which comes with this epilator is the efficiency cap and it ensures a gentle but efficient epilation in the most sensitive areas such as bikini lines and thighs.
I remember when I tried to epilate my bikini lines without using the efficiency cap; it was giving me a considerable amount of pain.
However when I used it with the efficiency cap the epilation was smooth and less pain. So do not forget to use the efficiency cap when using Philips satinelle in delicate areas.
Really comfortable handling
The rounded shaped design of Philips satinelle fits perfectly in the palm of your hand and the ergonomic grip will give you a better control over the device. The epilator head is removable and washable so it makes the cleaning easier.
What I do not like
A corded epilator
Philips Satinelle HP6401 is a corded epilator. However it's not much harassing because the length of the cable ensures you the freedom when handling.
The main reason which I don't like being corded is that you cannot use this as a wet & dry epilator.
If you need to use an epilator under water, it has to be completely cordless because electicity and water have really negative impact on each other.
So make sure not to use Philips Satinelle HP6401 underwater. If you are in need of a wet & dry epilator, I would recommend you to go with braun silk-epil 7.
Mostly effective with average length hair
Although Philips declares that Satinelle HP6401 even remove 0.5mm hair, I found that it is actually not much effective with shorter hair.
You might need to have 2-3 rounds of epilation to completely get rid of the shortest ones.
It is efficient with the hair ranging 1mm-10mm and again not much efficient with the ones more than 1.5cm.
Not a facial epilator
As I have mentioned above I would not recommend Philips Satinelle HP6401 as a facial epilator.
No built-in light
Built-in light has become an important features of recent epilators since it helps to reveal the un-removed hair when epilating.
Unfortunately Philips Satinelle HP6401 does not include a built-in light so you might miss some hair at the first round.
However I do not mind that much since you cannot expect all the features from such a cheap epilator.
After all, my summary on Philips Satinelle HP6401 is that it's a cheap epilator which will live up to its promises and definitely will  ensure an efficient experience.
I bought this from Amazon and to mention, Philips Satinelle HP6401 has become the best selling epilatior there; ranking no. 1.
There are around 2000 actual user reviews, where you can get more idea about.
I hope that this article has been quite informative for my dear loving readers. And if you have any kind of question regarding anything related to epilators, just comment below and I will get back to you with replies as soon as possible.