Before exploring about epilator pain let me give you a brief intro on how I did ended up using epilators in the first place. Like every other girl in the world, I love to groom myself too. In past I have been using different methods to get rid of the hair on my body – hot waxing and cold waxing, homemade waxing, hair removal creams and razors to name a few.
I wasn't really happy with the plethora of hair removing options that I had experienced all the years. Each time, I had a new feedback to give.
For a minute I wanted to opt for Laser hair removal. It is very effective in not just dealing with unwanted hair but also for quick results.
This procedure used to be quite expensive and had to be done at a dermatologist's office.  Of late, there are quite a few DIY kits on the market which can be used to get the same results.
But again, not everyone recommends going for laser treatments.
And voila! One of my close friends suggested that I should give a try to using epilators.
Do epilators hurt? And how to reduce epilator pain?
This was the first question that came into my mind. I instantly browsed through a number of YouTube videos and several video logs and also witnessed my friend using it in order to get a firsthand experience of what exactly it is like using an epilator.
Well, it goes without saying that an epilator works with the help of tweezers that pluck your hair from the inside – the root of the hair follicles – ouch! It hurts. it definitely does.
I felt this and I was apprehensive about using it. I started looking at several different options like using moisturizers, body oils, clove oil and many more to find out if its use could help me to reduce the pain while I am epilating.
Well, the only thought that kept me moving was my friend's positive words and the confidence she showed upon using an epilator for hair removal.
What's Next?
After a couple of ouch uses, I could grab the real understanding of how an epilator works.
Hair has 3 distinct stages – growth, rest and shedding.  Basically, hair follicles are targeted in the growth stage for maximum effect.
Multiple sessions are needed because hair grows in different stages and targeting follicles in the right state is important.
After a series of experiments and understanding, I was successful enough to find the best ways to reduce epilation pain.
Hope these help you too, lovely ladies!
Do you have lesser pain tolerance level? Well, I do!
It took me some time to get adjusted for the pains that came with waxing, threading and tweezing too. By that time for a beginner in epilating, I was quite apprehensive about the epilation pain levels that I could tolerate.
So, I opted to go for waxing first. I waxed my hands and legs and got rid of most of the hair very easily. With the little growth of hair, epilating became quite easy and less painful too. You may want to try it out if you have lesser tolerance levels for pain as I have.
You may want to try these quick ways too.
6 proven ways that can reduce epilator pain (Additional tips at the end – updated)
1. Using  a wet and dry epilator helps to reduce the epilation pain
Most of the big brands such as braun silk epil 7 and silk epil 9, have this feature on their epilating devices.
How does a wet and dry epilator reduce your epilation pain?
The main advantage of using a wet and dry epilator is that it can be used under water. In my experience it is really less painful when you epilate underwater.
Since water is having contact with your skin all the time the epilation process becomes smooth and gentle and causes a painless epilation.
But be remembered! Do not use dry epilators such as Philips Satinelle HP6401 or Emjoi Ap-18 epilators for underwater epilation. Electricity and water does not comply well!! 😀
2. Exfoliate your skin using spa gloves or a scrubber before starting the epilation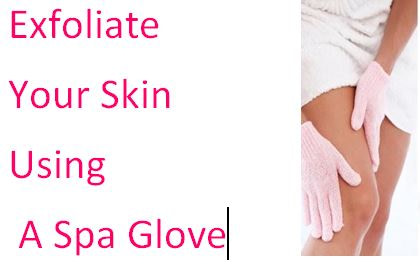 Exfoliation helps you to remove your skin's dead cells and ensures a painless epilation. You can use a spa glove or a scrubber (I prefer the spa glove) and gentely rub against your skin.
Exfoliating helps you to reduce your ingrown hairs and as well as the oiliness of your skin. It will keep your skin hair straight so the epilation process will be less painful.
Now, slowly move the epilator on the opposite direction to your hair growth. You will find tiny pricks, but believe me, these are way better than those red bumps and hot pricking pains developed when you epilate.
This trick works to lower the pain by up to 50%. Now, isn't that something which you wish to try?
3. Have a Quick Shower before Epilating
A quick shower will get your skin's pores opened. Since the hair is removed from its root an open pore will ease the epilation process and definitely reduce the epilation pain. It will remove dead cells and clean your skin, so you could have a great and painless epilation session.
Before when I used to use Emjoi Ap-18 the dry epilator, I always had a shower before committing to remove my hair.
However, as I'm using braun Silk-epil 7 the wet and dry epilator ; I epilate my skin while I'm taking the bath which is really efficient and comfortable. 🙂
4. Keep Your Skin Taut when You are Epilating

This next painless epilation tip is exclusively for your legs or when you have a friend to help you out. Pull the skin on your leg tout downwards in the opposite direction of the hair.
When the skin is tightly pulled, the epilating process automatically becomes less painful. So, ladies! Try and pull the skin as tightly as possible. So it would be able to remove these flat hair in your skin more efficiently.
You can even have epilating sessions with your friends… just like how you have pyjama parties. I did that with two of my close buddies and we had a ball of time.
5. Squeeze your Skin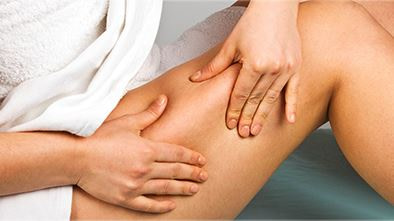 The next tip, though a bit time consuming, is one of my favourites. Believe me! I was able to epilate my under arms, legs, hands and waistline at ease.
All that you need to do is to squeeze the skin with the help of your thumb and index finger to help your hair stand up.
This makes epilating quite simple and less painful. The idea is to suppress the pain receptors with the help of squeezing the skin.
6. Using a Pain Killer
If your pain tolerance level is really low a pain killer would be an ideal solution for you. Take one at least 30 minutes before you begin the epilating process.
And of course my advise : It would be better if you can consult a doctor before using a pain killer. So it would be totally safe for you and nothing to worry about.
However I do not use pain killers since the epilation pain is not really that much unbearable.
Extra Epilator Pain Reducing Tips
Ice the area once it is epilated; this reduce irritation, redness and swelling
You may also try applying Aloe Vera. Refrigerate Aloe Vera for more effective use.
Distract your mind with music, movies, talking, gossiping with friends and more.
Did you know that your body is less sensitive 10 days after you complete your period? So, calculate your days accordingly and go for it girl! 🙂
Reveal the Radiant Skin beneath  – Uncovering Your Natural Beauty – Use an Epilator to Remove your Skin's Unwanted Hair
Flowers have bloomed. The springs have come and now the temperature is slowly soaring. In preparation to bid adieu to the springs and welcome the sunshine, it is time to stash up!
And of course! I really appreciate your opinions, ideas, experience with epilators. So please post them using the below comments section! Hola 😀